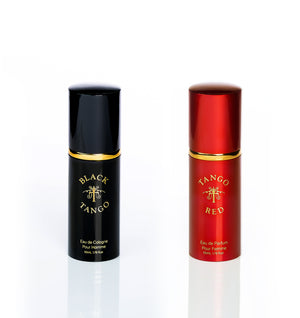 Black Tango & Tango Red 50mL x2- Dual Pack
售價 價格 $285.00 定價
Argentine Tango is passionate partnership. Made from Tango music itself, Black Tango and Tango Red go together- fit together- are one- together. Joined at the hip- explore all there is to know and love about each other.  That's the Tango. 
Momentos.com presents Black Tango and Tango Red Dual Pack as the perfect gift for couples and partners. That is because our fragrances were created together, as a pair, as an elegant partnership. Black Tango and Tango Red is the art of synergy:  a selection of aromas that blend, and meticulously crafted ratios that enrich each other and elevate partner ecstasy.
Made from pure essential oils, our Tango fragrances simultaneously deepen and sharpen senses. Worn together, they do so much more than compliment one another: they heighten couple-sensitivity and sensual communication.
The beauty and power of essential oils is that Tango Red and Black Tango scent selections empower individuals. Wearing our fragrances, you can confidently hold your own position and poise. Be the best you can be and become fully present in your partnership too. 
You can also 'play' with these fragrances by layering the two scents on your own skin. By doing so, you discover new layers, new dimensions of yourself. This goes beyond the simple idea of balancing the masculine and the feminine- it is to experience the whole you and opens your heart to growth and possibility.  
Dual Pack Presentation
Black Tango and Tango Red come in a sleek-black, monogrammed presentation box that cares for and protects your perfume and cologne. Nestled side-by-side, our luxury 'his and her' Tango fragrances are a proclamation of love.  
Free shipping.