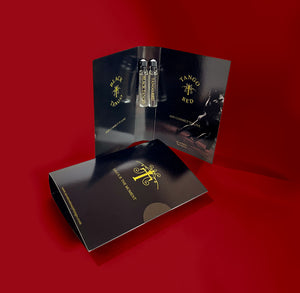 Black Tango & Tango Red Sample Pack of 5
售價 價格 $80.00 定價
Black Tango and Tango Red sample packs allow you to try our new signature scents. There is no better way to experience the luxurious sensuality of Argentine Tango.
Each pack contains a 1 x 2mL vial of Black Tango and a 1 x 2mL vial of Tango Red. The pack of 5 enables you to treat friends, families, troupes and clients, or add it to giftware to tease and heighten the senses.  The pack of 5 gives you a reduced cost per unit. 

We hope that your sample purchase leads you to becoming a future stockist or customer.