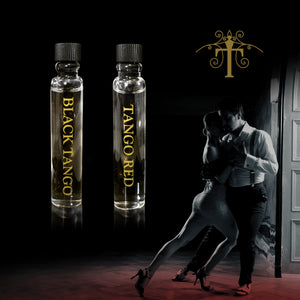 Black Tango & Tango Red Sample Pack of 50
セール価格 価格 $500.00 通常価格
Experience the world of Argentine Tango.  Black Tango and Tango Red sample pack of 50 units allows you to treat others and market-test fragrance popularity. 
Each pack contains a 1 x 2mL vial of Black Tango and a 1 x 2mL vial of Tango Red.  Discounted packs of 50 enable dance schools and clubs, Milonga or festival operatives, fashion, perfume and retail outlets or natural therapists and clinics, to spread the joy of Tango and social connection. 
We hope that your sample-pack purchase leads you to becoming a future Momentos stockist or Tango-fragrance promotion partner.